Harlequin Dancing-lady Orchid

Rare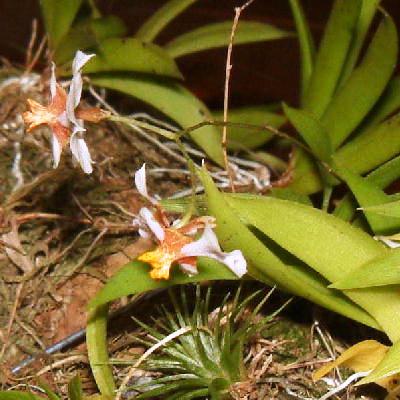 Flowering time;
Distribution; GC
Habitat; Partial shaded woodland
Status; Rare
Notes;
Type Information; Collector(s):W. W. G. Moir 17

Locality:"Grand Cayman, without proper locality"

Collection Date:1969-7-15

Type Remarks:"Obtained from plants sent to Mr. Oris Russel in Nassau who had received them indirectly from Dr. George R. Proctor of Jamaica, Jun 1968." Type collection flowered in cultivation by W. W. G. Moir, Honolulu, Hawaii. The Cayman Island plants have been described as a distinct species, O. caymanense, but this appears to be another station of the widespread and variable, Tolumnia variegata.
Norris Williams (personal communication 2003) obtained material of O. caymanense for DNA sequencing and the results unequivocally showed that O. caymanense is no more different from T. variegata than other T. variegata populations are among themselves.